Professor Ilan Alon visited in the School of Economics and Business in the end of September. He delivered lecturers, participated in meetings and discussions with Lithuanian and international students and young researchers of the Faculty.
What challenges do researchers face when preparing high quality publications?
I think that researchers form emerging markets in general (and from Baltic region specifically) are challenged with publishing peer reviewed articles for several reasons. First is linguistic – overcoming the language barrier. And second is the scientific methods, which are thought in PhD programs in Baltic countries, making it more challenging for them, although their ideas are good. It is a question of defining and proving the methodology they use, as well as the exposition of the research, which allows these researchers to move to the next level.
Why is it so important to publish results? How should researchers reveal results and make them more interesting to general public?
You are assuming it is important. I am not sure it always is. The research that we do is basic research, not applied research. Sometimes it has practical implications and other times it does not. Think about the fields of physics, sociology or psychology – do they have practical relevance? 95% of research do not have practical implications.
In business schools we presume it should, because business itself is a practical field. But we are scientists, social scientists to be exact. And therefore we are trying to understand the relationships between constructs, concepts. We are truth seekers, we seek to know the real world as it exists, and not necessarily give recommendations to businesses how to make more money. But sometimes we do that, because our research has some applied value.
We teach research, but research itself sometimes has no direct relevance to businesses. Sometimes the relevance is important to the government, not businesses. For example, what if we found out about the impact of corruption on certain business practices? What if we found a relationship between corruption and economic development? How is it helpful to businesses? It is helpful to knowledge, to knowledge creation. But most of our research is not. Our problem is that we teach business people, but our research is more scientific, less applied. Sometimes it seems that researchers are out of touch of reality, living in their ivory towers. But there are also researches revealing the fact that companies, which have researchers in in their Management Board, achieve better performance.
You are the Chief Editor of the "International Journal of Emerging Markets". Are all publications you get of the highest quality?
No, 90% of the articles I get are of insufficient quality, so I reject most of them. Only 10% of the articles have scientific merit.
How do you select which ones to publish?
I select them based on quality, methodology, and contribution.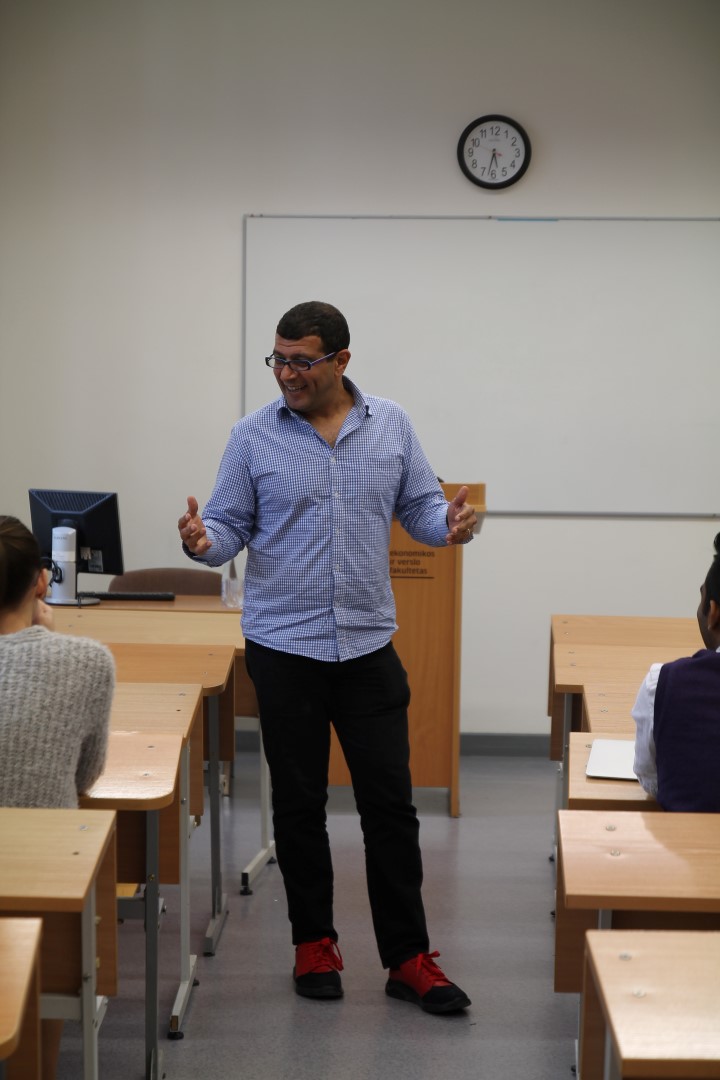 You use experiential teaching, could you describe how you apply this method?
If you hear something, you remember 20% of it. But if you do something yourself, you remember 80%. It's like being a reporter. You can take a class about communication and you may understand it a little bit better, but when you have to write yourself it's different.
So in my classes I let students engage in real world problems, work with companies, government agencies, and through these projects they are able to develop the skills they need.
You established and managed academic centres of competences in China and in India. Can you tell more about the primary idea and what these centres implement today?
Today I am no longer involved with these centres. But I can tell you that the idea of China being the second largest economy in the world means that we have to develop global citizens and leaders. We have to know about countries that have over billion people reach, we have to know about China and India and we have to understand and relate to people and businesses in those countries. So these centres aim to prepare and introduce the research community, the student community, and the public, to these markets.
Could tell more about Global Consulting study programme?
It is related to experiential learning. It involves companies that want to go global, but encounter problems with knowledge, people, availability and limited resources. And therefore universities act as conduct; they help these businesses to develop plans to go abroad. We let students to do this kind of research with a faculty member, to develop solutions and write a consultancy report, then come back and tell the company what it should do. Students provide value to the company by doing this research and gain valuable experience themselves. And the faculty gets good stories for the classroom, interesting real-world cases to cover later.

Dr. Ilan Alon is Professor of Strategy and International Marketing at the University of Agder, Norway, and visiting scholar at Georgetown University, USA. Prior to this, Dr. Alon was also a visiting scholar at Harvard University.
Alon's teaching and consulting work spans the globe covering America, Europe, Asia and the Middle East. He has taught in top business programs globally, including Shanghai JiaoTong University (China), EM Lyon (France), Ben Gurion University (Israel), Bilkent University (Turkey), and MIB (Italy), among others.
Alon research includes global franchising, political risk assessment and the globalization of Chinese enterprises. He authored numerous peer reviewed articles including ones appearing in Journal of International Marketing, Harvard Business Review and Corporate Governance: An International Reviewand books such as Global Marketing (McGraw-Hill, 2012), Global Franchising Operations Management: Cases in International and Emerging Markets Operations (FT Press, 2012), Franchising Globally: Innovation, Learning and Imitation (Palgrave, 2010), Service Franchising: A Global Perspective (Springer, 2005), Chinese International Investments (Palgrave, 2013), Chinese Entrepreneurs (Edward Elgar, 2009), China Rules (Palgrave, 2009), Globalization of Chinese Enterprises (Palgrave, 2008), among other books.
Alon has consulted both multinational businesses and government organizations relating to marketing and international business issues. Among his clients are USAID, Darden, Disney, illy, and Orlando International Airport.
Academic interests
International Strategy and Structure, International Marketing, Emerging Markets, China