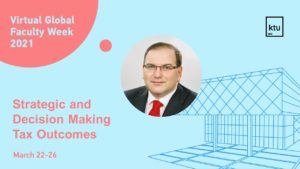 KTU kindly invites colleagues from partner universities worldwide to its "Virtual Global Faculty Week 2021" to be held on 22-26 March 2021.
Time: March 22nd, 11:00
Event link: http://bit.ly/3brUAtA
Lecturer: Dr. Karlis Ketners (BA School for Business and Finance, Latvia) is Professor at Economic and Finance Chair of BA School of Business and Finance and has extensive teaching experience providing different courses related to taxation, tax planning, national economy, investment policy matters. Also Dr. Ketners has extensive practical experience in public sector. Main research interests are related to international taxation and public finance issues.
The event is open for academic staff willing to give lectures online, share experiences with our professors, find areas of cooperation. We believe that it is a mutual interest and virtual lectures will become another form of cooperation and exchange of expertise.
Language of the event and lectures is English.