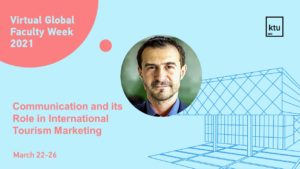 KTU kindly invites colleagues from partner universities worldwide to its "Virtual Global Faculty Week 2021" to be held on 22-26 March 2021.
Time: March 23rd 14:30 – 16:00;
Event link: http://bit.ly/3rEyk5D
Lecturer: Martin Luštický, Ph.D., currently serves as the Vice-dean for development and external relations at the Faculty of Management; Prague University of Economics and Business. His professional interest includes strategic planning and application of management methods in the field of tourism and regional development. He is author/co-author of more than 70 papers published in interdisciplinary journals and at international conferences. He is a member of editorial board of the Journal of Quality Assurance in Hospitality & Tourism and the Global Business and Finance Review. His international teaching experience includes short-term scholarship at the Center for Hospitality and Tourism Research, Oklahoma State University, U.S., and number of ERASMUS teaching stays in Lithuania, Slovakia and Slovenia
The event is open for academic staff willing to give lectures online, share experiences with our professors, find areas of cooperation. We believe that it is a mutual interest and virtual lectures will become another form of cooperation and exchange of expertise.
Language of the event and lectures is English.